Novel coronavirus
Understanding of the novel coronavirus epidemic is evolving quickly. COVID-19 has been made a notifiable disease. Several suspect cases have already been notified in Christchurch but so far all have tested negative. Public health staff are maintaining a presence at the airport and ports, and are preparing for local case and contact management.
For health professionals, we recommend the following information sources:
The Ministry of Health website provides frequently-updated information for the New Zealand public and for health professionals:
Johns Hopkins Bloomberg School of Public Health's situation report emails provide an excellent brief daily overview of international breaking news and research developments, with links to further reading. Subscribe here.
Local information is available on Canterbury HealthPathways.
---
Measles
National measles notifications have reduced to low levels again after peaking in September 2019. Since the start of last year there have been 2195 measles cases in New Zealand, with 774 hospitalisations (35.3%).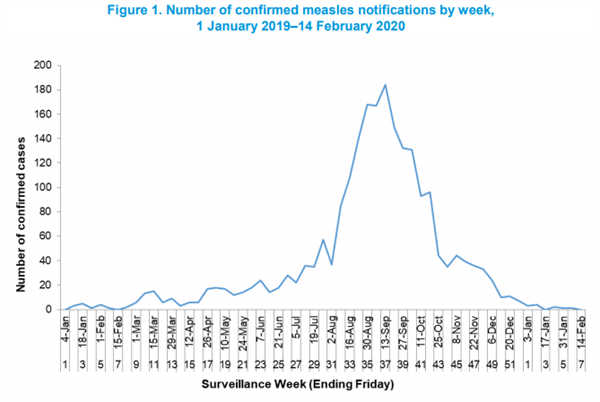 ---
Mumps
A national increase in mumps notifications began late last year . Since the beginning of this year, 35 mumps cases have been notified in Auckland, 25 in Otago/Southland, and 12 in other DHBs. Most South Island cases have been young adults around Queenstown. The two Canterbury cases, notified in February, were in young local adults who had holidayed around Queenstown.
Mumps is spread by droplets and by direct contact with saliva. Around a third of cases may be asymptomatic. The incubation period is 2-3 weeks, and cases are most infectious from 2 days before until 5 days after the onset of parotitis. Asymptomatic cases can also be infectious. Mumps vaccine effectiveness is lower than for measles and rubella, and vaccine-induced immunity wanes with time.
People who have travelled to Auckland or Queenstown may have been exposed to mumps. Mumps cases should be notified on suspicion to the Medical Officer of Health.
---
Canterbury Wellbeing Index
The Canterbury Wellbeing Index has been recently updated with results from the 2019 Canterbury Wellbeing Survey. You can learn there how people in greater Christchurch rate their quality of life, health, emotional wellbeing, levels of loneliness, and stress (amongst many other indicators). You can view data by Territorial Authority, ethnicity, age, income, gender and disability status, and print out easy-to-read pdfs. As an example, the graph below shows how self-reported quality of life is stratified by income, demonstrating clearly the impact of this important social determinant of health in our community.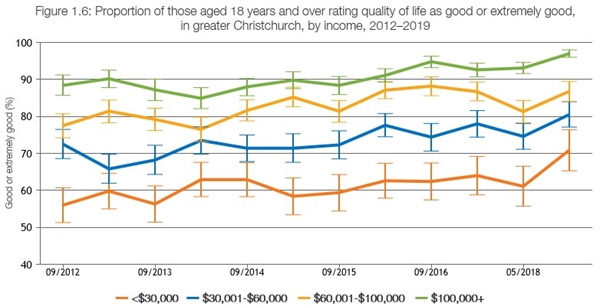 ---