Measles cases continue
Canterbury's February-April measles outbreak, involving 38 cases, has since been overshadowed by the much larger Auckland outbreak exceeding 2,000 cases, over half of them in Counties-Manakau DHB.
Most recent cases outside Auckland have been linked to Auckland, including two cases in South Canterbury, most cases in Canterbury (two in July and one each in September and October), and large outbreaks in Samoa and Tonga. However, the September-October Queenstown outbreak (over 70 cases) and one of the Canterbury October cases reflected new measles importations from overseas.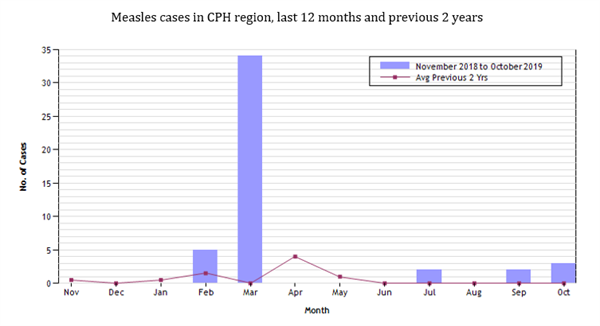 Measles testing advice has changed for children aged 4 years and younger: these patients now only require a nasopharyngeal swab in viral transport media (patients aged 5 and over still require a nasopharyngeal swab in viral transport media AND a whole blood sample for measles serology). HealthPathways testing advice will reflect this change in the near future.
Notification of measles on suspicion helps public health staff respond promptly to new cases.
ESR's weekly measles reports are available here, https://surv.esr.cri.nz/surveillance/WeeklyMeaslesRpt.php and the Ministry of Health's latest advice is available here https://www.health.govt.nz/your-health/conditions-and-treatments/diseases-and-illnesses/measles/2019-measles-outbreak-information
---
Legionnaire's disease numbers climb in Spring
Over 50% of legionnaire's disease cases in New Zealand are caused by Legionella longbeachae, found in soil and compost products. Notifications increase in the warmer months, and this month has already seen 13 cases notified in the CPH region.
Most cases of Legionnaire's disease occur in people aged over 50. Risk factors for Legionnaire's disease identified in a recent Canterbury study were: COPD, a history of smoking, exposure to compost or potting mix, tipping or trowelling compost or potting mix, and having unwashed hands near the face after exposure to compost or potting mix.
HealthPathways advises asking patients with community-acquired pneumonia about exposure to potting mix or compost, and treating with antibiotics for Legionella if the answer is yes.
Sputum can be tested for legionella by PCR and culture on request. Urine antigen testing can only detect L. pneumophila, so is not helpful after exposure to potting mix.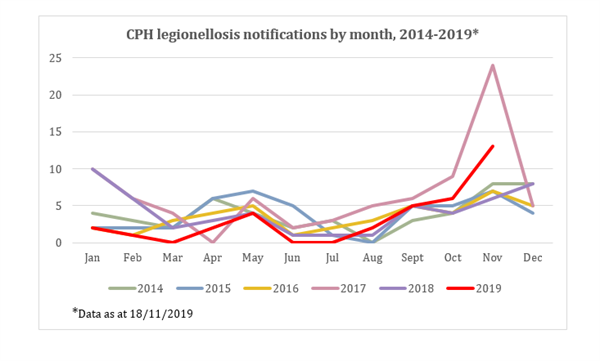 ---
New resources for parents from All Right?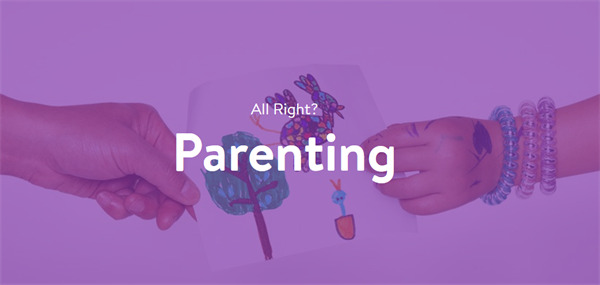 The All Right? campaign supports people to become more aware of their mental heath and wellbeing, and to take small and regular steps to improve it.
All Right? was launched in February 2013 to support Cantabrians as the region recovers from the earthquakes. The campaign is a Healthy Christchurch initiative led by the Canterbury District Health Board and the Mental Health Foundation of New Zealand, and has received overwhelmingly positive feedback.
All Right? has developed a range of resources for parents, particularly those whose children struggle with 'big emotions'. Useful handouts, and an up-to-date list of local parenting programmes are available at https://allright.org.nz/tools/parents/
---
Immunity against pertussis (whooping cough) wanes with time
Although pertussis rates in our region are currently low, sporadic cases continue. In a recent Christchurch gym-based pertussis outbreak, two cases reported that they had been told by different medical practices that their symptoms couldn't be due to pertussis because they had been fully vaccinated.
Unfortunately, although a full pertussis vaccination course provides around 81-85% efficacy, protection only lasts between 5 and 10 years.
Pertussis is highly transmissible in family and healthcare settings. Infants aged <1 year are at the greatest risk of severe disease and hospitalisation.
Pertussis prevention relies on on-time immunisation of children, with further vaccination for pregnant women and for health professionals and others in contact with babies and young children.
Please consider pertussis in patients with paroxysmal and/or persistent cough, even if they have been fully vaccinated, consult HealthPathways for testing advice, and notify the Medical Officer of Health of suspected or confirmed cases.
---